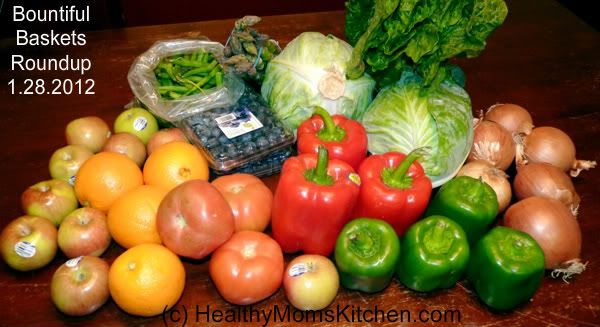 I don't remember ever getting fresh blueberries from Bountiful Baskets Food Co-op before! We've certainly gotten plenty of black and raspberries, so this was a fun surprise!! My kids of course inhaled one package already. This week, we also got:
FRUITS little baby Fuji apples (the kids were tickled over their little size) oranges blueberries
VEGGIES Romaine lettuce cabbage tomatoes red bell peppers green bell peppers onions asparagus green beans
I was happy with the veggie heavy week because we still have quite a bit of fruits from last week! We've been having bowls full of fresh fruit medley each day and will continue that this week (simply cut up oranges, apples, bananas, pears, kiwi).
Here are some fun healthy blueberry ideas from Pinterest.
I can't decide if I should make my Blueberry Banana Muffins, or try this Baked Oatmeal with Blueberry & Banana recipe. If you make this one, use Old-Fashioned Oats rather than quick oats to make it lower glycemic (basically meaning, it will keep you full longer because it takes your body longer to break down; also great for weight release because it won't spike your blood sugar as much – helping your body to naturally burn fat).
This Blueberry French Toast Bake needs a serious makeover but looks divine!
Blueberry Baked Steel Cut Oatmeal
Oh my word! Do you need any convincing to try this one?! Now…I just wish I had mangoes. I think the Tropical Pack had one in it. Mango Blueberry Quinoa Salad with Lemon Basil Dressing Recipe
Summertime Salad (just leave off the strawberries if you don't have them).
I'll get my full menu plan up later. I'm up for a massage this morning…which means I'll probably be so relaxed and get a nap afterward. Ahhhh! I can't wait! I'll also be doing plenty of reading today (finishing up Nicholas Sparks, Safe Haven). Tonight is date night!
What are you doing to nourish yourself this weekend?